Sounds and Video Page
Click pictures for audio, or video icon for movie (mpg) clip/mouse over for info.
**New** (8/07) additions at bottom of page! (Batmobile Movie, gadget labels)
The START BUTTON, ATOMIC BATTERIES, TURBINES, & AFTERBURNER
Actual 20th Century/Fox Special Effect sounds
click for the Batmobile start/pull away
Approach/Shut-off
Pass-by

20th Cent./Fox Special Effect sound click for DETECT-A-SCOPE/BAT-O-METER

The BATOSTAT ANTI-FIRE ACTIVATOR
The REMOTE CONTROL APPARATUS, The REMOTE BATMOBILE PHASE ADVANCER, REMOTE CONTROL ACTIVATOR & BATMOBILE auto return to Batcave
The REMOTE BAT COMPUTER SWITCH
The EJECTOR SEAT another EJECTOR sound
The REMOTE BATMOBILE BOMB DETECTOR
HIGH ENERGY RADAR

... also includes the ODOR SENSE-A-TOMETER RADAR CIRCUIT
VOICE-CONTROL BATMOBILE RELAY-CIRCUIT
ULTRASONIC RECORDER
The TRACKING SIGNAL & BAT-DEFLECTOR
ANTI-CRIME RECORDER & REMOTE RADIO PICK-UP
BULLET PROOF & SPECIALLY TINTED WINDSHIELD GLASS
BEACON
INFLATED BATMOBILE DUPLICATE
TINY TV TRANSMITTER BEHIND THE FUEL GAUGE
POLICE BAND CUT IN
ANTENNA ACTIVATOR
GENERAL BRAND FIRE EXTINGUISHER
ANTI MECHANICAL BATRAY in the BAT-GLOVE COMPARTMENT
BATMOBILE BAT TRACKER
BATMOBILE'S NIGHT RUNNING LIGHTS
BATMOBILE GEIGER COUNTER
LEAD SHIELD COMPARTMENT IN TRUNK also a NEGATIVE ION ATTRACTOR DEVICE, and an EMERGENCY BAT-TRUNK LOCK
BAT-SLEEP & BAT-WAKE, (BAT-AWAKE) (large and small size)
THE BATCYCLE'S BATMOBILE REMOTE CONTROL
ACCESS TO TERMINALS TO THE NUCLEAR POWER SOURCE
LIBRARY PASTE BAT-DISSOLVENT SWITCH
the 4 license plates, 2F-3567, TP-6597, BAT-1, ZEF 451
CHAIN CUTTER (never used!)
Mystery box under afterburner, never used or explained, presumed to be a camera.
Secret MIC. (microphone), Talk is picked up and relayed via the automatic feedback circuit in the Bat-Cave #29
Bat-Laser beam, mentioned, not shown episode #1, used to burn off the firing pin of a revolver. (Not sure if it was handheld or part of the car!)
**NEW** ...A ~10 minute movie starring the Batmobile!
click for "The 1966 Batmobile Movie"
**NEW** click for page showing the various gadget labels seen on the #1 during the series
Click banner for my

A. Pennyworth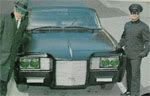 click for my Black Beauty Gadgets page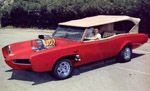 Hey, Hey, Let's not forget about the Monkeemobile! Click here

Click for A.P.'s main home page